The seasonal wetlands of Botswana's Okavango Delta are one of the best places on the planet for a safari. The Okavango truly is a river of dreams for man and beast.
This unique region is home to some of the world's most impressive and endangered animals, including all of the "big 5" species: Lion, Leopard, Rhino, Elephant, and Cape Buffalo. Plus, it boasts an incredible diversity of other exciting wildlife like Crocodile, Hippo, and hundreds of species of birds and reptiles.
The Okavango Delta's Lions are the region's most famous residents. This is the only known area to observe some fascinating extremes in their behavior like swimming, buffalo and elephant hunts, and growing well beyond the average size.
So, whether you're a wildlife photographer, nature fanatic, or just looking for the experience of a lifetime, this fascinating ecosystem in northern Botswana won't disappoint.
Keep reading about the Okavango river of dreams to learn about life in the delta, when to visit, and for our top tips on accommodation while you travel. 
All About the Okavango Delta
The mighty Okavango Delta may be one of the world's largest wetlands, but it has a humble beginning as rain falling in the Angolan highlands.
This rainwater collects in a hundred different streams and rivers before beginning it's journey South towards Botswana. The journey of the Okavango lasts for thousands of miles eventually spreading out into a massive inland oasis that supports one of the most diverse ecosystems on Earth.
The Okavango is one of the few rivers in the world that flows inland, rather than ending at the sea. That's part of the reason that so many species are drawn to its fertile floodplain.
Throughout these wetlands, visitors have the chance to encounter rare predators such as Lion, Cheetahs, Leopard, and African Wild Dogs. Other stunning species that call the river delta home include endangered Black and White Rhino, Zebra, Giraffe, diverse antelope species, Elephants, Puku, Sitatunga and Buffalo. The Okavango is a river of dreams like no other.
If you're hoping to catch a glimpse of these impressive animals in the wild, you'll need to plan your trip carefully. Keep reading to learn more!
How was the Okavango formed?
Between 180 and 80 million years ago, as South America and Antarctica separated from Africa, the rifting and tearing had a dramatic effect on the continent of Africa.
Between 5 and 20 million years ago a series of events occurred that had a profound effect on the entire African continent and effectively established the conditions for the formation of the Okavango. These events were all related to continued tectonic activity and caused the continued rifting of the African continent from the Gulf of Aden, through East Africa and out into the Indian Ocean off the Mozambican coast. This is the well known Great East African Rift Valley. A lesser known feature of this rift is that it has an "arm" that runs south-west from northern Malawi, down the length of the Luangwa Valley and along the Zambezi Valley.
About 1.8 million years ago the rifting intensified and the inland flowing Zambezi River was captured by an east flowing river to form the course of the modern day Zambezi river.
The continued faulting and down warping had the effect of creating a "graben" fault – a subsidence between two weakened areas of the earths crust. Into this 200 kilometre wide fault has poured the waters of the Okavango River and along with it, the sediments that have filled the depression. The sediments are mostly of Kalahari origin and are in many cases slightly smaller grained having been worked by water during their transportation into the graben fault.
The Okavango graben is a depression within the greater Kalahari. The faulting is in the original bedrock below the first Kalahari beds but manifests itself as a down-warped area on the surface. The down-warping cut directly across the Cuito and Cubango rivers which joined to form the Okavango about 250 kilometres above the Gumare-Linyanti fault. Water and sediment poured into this depression until it had filled up and leveled off to form a classic delta-shaped alluvial fan.
Through millennia the Earth's movement has created the precise geological situation for the Okavango to become the river of dreams it is today.
Facts about the Okavango…
It is an area of approximately 15 000 square kilometres.
Average annual rainfall is 500mm – the delta itself falls within the geographic boundary of the Kalahari Thirstland which has an annual evaporation rate of five times that of the rainfall or 2500mm per annum. This means there would be no surface water in the Kalahari for up to 7 months of each year were it not for the Okavango Delta – a true oasis.
The main catchment area of the Okavango lies in the central highlands, or Planalto, of Angola about 900 kilometres north-west of the Okavango. This area receives between 1200mm in the west to 1800mm in the east where the Zambezi has its origins.
Hippo, Elephant and the shape of the sand particles forming the sediment of the Okavango all assist with the continued flow of the water.
Average annual water inflow approximately 11 billion cubic liters.
Average annual rain inflow 5 billion cubic liters.
When to Go
The Okavango has a few specific seasons, and when you visit will largely determine what wildlife you see. Remember, this area is not a floodplain all year round, so there are months where game viewing can be scarce. Choosing the area and what you want to experience is important.
Low season, between January and April, is a hot and humid time of year. Many of the delta's migratory species have dispersed after the rainy season, but wildlife viewing is still very good in its diversity.
During this time of year, water-based safaris are only possible if you base yourself in a riverside lodge on one of the area's permanent channels that will remain flooded all year.
From May to June, the delta's floodwaters are just starting to trickle in. They arrive in the panhandle first, slowly spreading from there. Grass cover is highest during these months, making wildlife the most challenging to view. No matter what season you visit, the Okavango will be the river of dreams you have been dreaming of.
If you're planning to be in Botswana during these months, choose a wilderness lodge in the country's North that offers vehicle safaris and trail drives along known migratory routes. This will give you a chance to spot migratory species as they make their way into the region.
Between July and September is considered the delta's high season. This is the perfect time of year to visit, with moderate weather, blue skies, and enormous numbers of animals. Grass cover is minimal, so visibility is excellent. And, this is the best time of year for fishing in the delta too.
Because these months are highly popular, you'll want to reserve your lodge accommodation and activities well ahead of time. High-end and luxury accommodations might be booked months in advance!
In October, temperatures begin to rise, and wildlife starts to move and congregate in areas of permanent water. This time of year is hot and sticky, with fewer animals around than dry months. But, November and December are the birthing season here, and some unique wildlife viewing opportunities do exist.
For the best chances of wildlife spotting during these months, stay in an elevated lodge with plenty of observation platforms. From up high the Okavango shows why she is the river of dreams so consider a helicopter flight while you're there.
Choose Your Adventure
One of the most important parts of planning an Okavango Delta safari is choosing the type of adventure that suits you best.
Xugana Island Lodge
Some lodges, like Xugana Island Lodge, offer mostly water-based activities. These are conducted via motor boat and traditional dugout canoes called "mokoro's". Remember, if you're planning an aquatic adventure, you'll need to visit during one of the wetter months. Rates at Xugana begin from $780 per person and includes accommodation, meals, airstrip transfers, daily safari activities, night drives, mokoro trips, laundry, local brand drinks and park fees'.
Belmond Savute Elephant Lodge
Other options, like the Belmond Savute Elephant Lodge, focus more on land-based activities of open vehicle safari's, walking tours, and photographic workshops. Because you'll be traveling by vehicle to a variety of watering holes and well-known sites for wildlife, these make better options during the low season and a greater area can be covered.
Rates at Belmond Savute Elephant Camp start from $1200 per person and include accommodation, meals, twice daily game drives, park fees', laundry and local brand drinks.
Camp Okavango
For the best of both worlds, plan your stay at Camp Okavango. The camp offers land and water safaris with a variety of transportation options. You're more likely to spot the region's stunning wildlife that way! Rates for Camp Okavango start from $780 per person and include accommodation, meals, daily safari activities, local brand drinks, airstrip transfers, catch and release fishing, walking safaris, mokoro trips, laundry and park fees'.
Camps that offer a variety of activities and excursions are also best for families with children or groups with different interests and activity levels. That way, there's a safari to suit everyone.
Duba Explorers Camp
If you're visiting the Okavango Delta in the hope of viewing the region's unique interactions between Lion and Buffalo, you will want to book at Duba Explorers Camp. The unique relationship between the Lion prides and herds of Cape Buffalo in the area have produced some world-famous footage. These Lions are built like no other having to hunt through knee deep water.
Rates for Duba Explorers Camp start from $915 per person and includes accommodation, meals, local brand drinks, airstrip transfers, laundry, twice daily game drives, walking safaris, fishing and the use of both Canon photographic gear and Swarovski binoculars.  
Duba Explorers Camp is linked to the environmental efforts and studies of Derek & Beverly Joubert, the local authorities on Lion and Hyena behavior.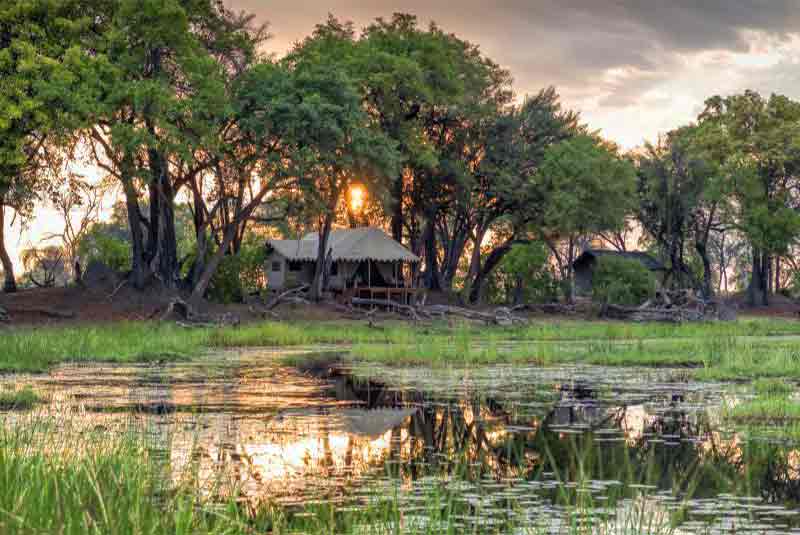 Ready, Set, Safari!
Now that you know a bit about the Okavango Delta, you're probably excited to start trip planning. And, you might even have a wilderness lodge or two in mind already.
Remember to consider the season and which activities you prefer before booking. This will give you the best chances possible for wildlife observation. Keep in mind that not every species spends time here year-round!
If you are arriving during the peak season, be sure to reserve well in advance. You don't want to miss out on any of the exciting activities the Okavango offers while you're in Botswana.
Consider whether you prefer a rustic lodge or luxury accommodation. This region offers a wide variety of places to eat, sleep, and safari. 
Do you still have some questions? No worries!
Check out our blog for more helpful tips on planning your African safari. And, contact us for more helpful advice or to get your questions answered before booking.