The Top 10 Pandemic Retreats in Africa
While there are still a lot of unknowns about the coming year, one thing is certain: We need an escape! With a vaccine offering hope for 2021 the future of travel is looking up, but what will be the safest trips to take while the world is still in flux? Think wide-open spaces, small-group adventures and responsible back-to-nature trips. Playing it safe doesn't mean you can't get outside your comfort zone and have a novel adventure though. There are plenty of people that are traveling right now, AND doing it safely. Discover the top 10 pandemic retreats in Africa and how they will deliver the perfect safari travel bubble.
In fact, getting on an airplane is one of the safest places to be. Think about it, everyone has been tested, everyone is wearing a mask, and, the filter system on the airplane is one of the most sophisticated in the world! It's even safer than being at home. If you have the benefit of the choice, then get your family together, lease a private jet and fly off to your idyllic location in your own little travel bubble. Several world renowned lodges and safari companies are evolving with the times and have created opportunities where you can enjoy your safari in Africa with minimal contact.
And, lets face it, being in the wide open spaces of Africa is probably the safest place you can be. We all thought Africa would be devastated by COVID-19 but in fact, it's developed nations that are suffering the worst. Africa has some of the lowest COVID-19 numbers on the planet. The dry hot air is not conducive to airborne bugs, the population density is very low and WHO hygiene practices are being followed rigorously.
This year, 2021, is the ideal time for you to book that dream safari to Africa. Oh, and did I mention the rate freezes? Yes, most safari companies have frozen their rates for the entire year! This means that your safari to Africa this year, will be at the old 2020 rates!
Do you really need more reasons to go on safari in 2021? I didn't think so 😊
African Safari Experts has compiled a short list of the top 10 pandemic retreats in Africa. Keep reading to discover your nirvana in Africa and then get planning!
Bushcamp Company – South Luangwa, Zambia
Bilimungwe Bush Camp
Fly into Lusaka and hop onto a light aircraft for Mfuwe. Or, take your private jet directly to Mfuwe, either way, on arrival at Mfuwe you will be met by your personal guide and driver for the 90 drive to Mfuwe Lodge. Here you will be greeted by Andy Hogg for a refreshing drink and a comfort break. Then, it's back into the jeep for the 60 minute game drive down to Bilimungwe Bush Camp.
Nestled under a grove of Ebony trees' and close to the confluence of the Kapamba and Luangwa Rivers the camp is serenity personified. Open plains, a beautiful tree canopy, a waterhole right in front of the camp…what more could you wish for? Did I mention the game viewing is incredible? And your guide, Brian Manda is an internationally acclaimed safari guide?
Bilimungwe is a sole use camp for a minimum of 6 and maximum of 8 guests in 4 thatched chalets. The focus here is relaxation with morning walking safaris, bush breakfasts and iconic river sundowners. The camp is open from 14 May – 27 December providing one of the best out of the top 10 pandemic retreats in Africa.
Asilia Africa – Ruaha, Tanzania
Jabali Ridge Private Retreat
Situated overlooking the plains of Ruaha, Jabali Ridge Private Retreat is a luxurious 3 bedroom house offering complete privacy and excellent game viewing. With her own staff compliment of guide, vehicle, chef and housekeeping staff the retreat is an ideal retreat for friends or an extended family.
The open plan kitchen and lounge area opens onto a wide deck with your own private swimming pool and magnificent views. Two of the rooms have king size double beds and en-suite bathrooms while the room at the rear has twin beds – for the kids – and a smaller en-suite bathroom.
The interior is spacious, game viewing can be done at your own schedule and sightings of Elephant, Lion and Leopard are quite common.
Great Plains Conservation – Okavango Delta, Botswana
Zarafa Camp
Deep in the Okavango Delta an enjoying a 130 000 hectare private concession is Zarafa Camp. Known as the most innovative and environmentally friendly camp in Botswana, the 4 luxurious tents are over 330 square feet each! Solar power provides your electricity and bio gas is recycled into usable cooking gas.
The concession links the Okavango with the Chobe / Savuti corridor and sightings of Elephant and Buffalo in their hundreds are quite common. The dense riverine vegetation and crystal clear channels make game view diverse and plentiful. Lion and Leopard are seen often on game drives.
The guest tents are made of recycled wood and canvas with billowing ceilings, wide decks and a private plunge pool for cooling off during the heat of the day. The outside shower boasts excellent views over the marshes and a free standing bath is also available for a long hot soak.
Accommodating just 8 guests Zarafa Camp is perfect for a group of friends or large families wishing to travel in their own bubble of safety. Private jets are able to land at Maun International Airport at 3700 meters in length.
Wilderness Safaris – Okavango Delta, Botswana
Little Mombo
Chief's Island lies in the heart of the Okavango and Little Mombo enjoys a spectacular location on the North of the island. Overlooking wide open plains that can be filled with Elephant and Buffalo the camp so it's no surprise that she has been nicknamed "the place of plenty". Wilderness Safaris have been pioneers in the conservation of both Black and White Rhino which have been successfully translocated to the Island.
Predator action in this area particularly can be incredible with hunts occurring nearly daily and the epic battles over a kill between Lion and Hyena can be truly exhilarating.
With just 3 tents this intimate camp can accommodate up to 8 guests as well as 2 pilots if you are in your own private aircraft. Each of the tents is elevated onto a wooden deck to maximize the views and wooden walkways connect the rest of the camp to the rooms.
The tents are luxury canvas with king size beds, indoor and outside showers, bath, private plunge pool, open air lounge area and deck with complimentary WiFi. Little Mombo booked for your sole use means that children under 12 years are welcome.
Little Mombo is easily the most luxurious of the top 10 pandemic retreats in Africa.
Additional activities include scenic helicopter flights and excursions to the World Heritage Site of the Tsodilo Hills.
Elewana Collection – Ngorongoro Crater
The Manor at Ngorongoro
Nestled on the rolling hills of the Great Rift Valley, The Manor at Ngorongoro Crater is easily one of the most luxurious safari lodges in East Africa. Designed in the old Cape Dutch tradition The Manor is a safe environment for children with a wide variety of activities for them to play un-attended but also close to prime wildlife viewing too. The Ngorongoro Conservation Area is a short drive away with a guide and vehicle where game viewing is very good.
The main lounge and living areas are stunning, comfortable and warm with ample space for playing, relaxation and indoor fireplaces for the cooler nights. Horse riding for the children can be arranged as well as mountain biking and coffee plantation tours. Private picnics can be arranged and child minding can be catered for should a spa day be booked for the parents.
The Manor has 9 Cottages as well as The Stable Cottage that has 3 rooms for families with grandparents. Each cottage is quite luxurious, very spacious and each has their own private deck, fantastic bathrooms and beautiful guest amenities.
Cottar's Safaris – Masai Mara
Cottars Bush Villa
Located on a lush green hillside in the Olderkesi Conservancy, Cottar's Bush Villa was built by the owners of Cottar's 1920's Camp. The villa is made up of two floors and can comfortably sleep 6 guests. From the patio's the views out over the conservancy are nothing short of breathtaking while the interior is warm and very inviting.
The Villa is maintained by a personal staff of 8 that includes a private chef as well as a guide, spotter and game drive vehicle so you can decide your safari itinerary as it suits you.
The Bush Villa has 5 en-suite bedrooms on both floors, each is subtly different but they are spacious and  comfortable with private patio's and lush bathrooms. Whether you're traveling as an extended family or a group of friends, the Bush Villa in the Masai Mara has the space and location for a personal safari that will exceed all your expectations.
The Bush Villa is one of our favorites in the top 10 pandemic retreats in Africa.
Governor's Camps – Masai Mara
Governor's Private Camp
Located on a quiet corner of the Mara River, Governor's Private Camp is a peaceful and scenic camp that boasts excellent birding and both Crocodile and Hippo in the river below. A minimum of 6 guests are required to book in order to have the location on an exclusive use basis.
The main guest area is comfortably furnished with an open plan lounge area, bar and dining table. Meals can be served inside, or outside on the deck in good weather.
4 of the tents have king size beds while the remaining 4 are made up with twin beds. All the tents have adequate space and have a light yet warm décor. There is a large en-suite bathroom at one end of the tent with an open sided shower.
Activities at Governor's Private Camp include morning and afternoon game drives as well as hot air balloon safaris from the sister camp, a 10 minute drive away and well worth the experience.
The Masai Wilderness Conservation Trust works to protect ecosystems, read up about how you can make a difference.
Ol Malo – Laikipia Plateau, Kenya
Ol Malo House and Lodge
On the Northern edge of the Laikipia Plateau lies Old Malo House and Lodge, a working cattle ranch that co-exists in harmony with the surrounding wildlife.
Both properties cater specifically to multi-generational family safaris and has a wide range of activities to suit everyone.
Ol Malo house décor was heavily influenced by the Samburu culture with 3 bedrooms and 2 adjoining cottages sleeping 4 guests. The lodge has 3 cottages and one family cottage, both properties being ideal for extended families.
Activities include milking the cows, game drives, camel treks, birding and cultural excursions.
Read more about the conservation efforts in Laikipia.
Singita – Grumeti, Tanzania
Singita Serengeti House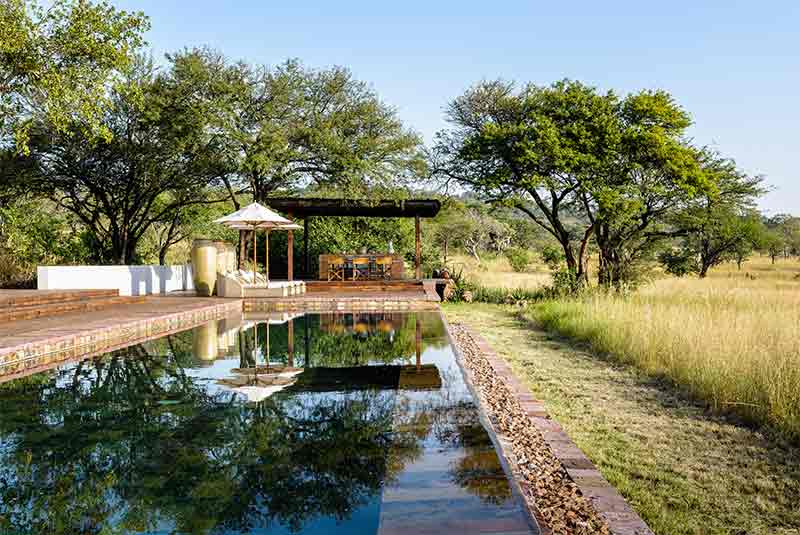 In the 142 000 hectare Grumeti Private Reserve lies Singita Serengeti House, an exclusive use retreat with fantastic views out over the Serengeti plains. The location is directly in the path of the annual migration and overlooks a permanent water source that is visited frequently by a diversity of wildlife.
Facilities here include a tennis court, swimming pool, spa, gym and media room. It goes without saying that the staff are there for you alone and game viewing is at your discretion.
With 2, one bedroom main house suites and 2, one bedroom garden suites there is plenty of space to revel in the incredible luxury of this unique safari experience. Children of all ages are welcome.
Selous Safari Company – Songosongo Archipelago, Tanzania
Fanjove Island
140 kilometers off the coast of Tanzania lies the remote island paradise of Fanjove Island, a rare retreat for those looking for complete privacy.
The design of the lodge has been inspired by it's history and while the theme is rustic, you won't be disappointed here. The island is small but there is plenty to do and a rich history to follow. Walk to the lighthouse and climb to the top to marvel at the views. Snorkel, dive or simply relax and soak up the sun in your hammock.
There are only 6 "bandas" on the island and a small staff compliment dedicated to your pleasure.
Fanjove Island is the most remote of the top 10 pandemic retreats in Africa and well worth a stay of 5 days or more.
Now that you have been truly inspired to make that booking, email Pierre, the owner of African Safari Experts. He will take care of you personally.
Read our Country Information for travel advice to Kenya, Tanzania, Botswana and Zambia.
Looking for more? Then explore Segera Retreat.