As the world slowly starts her recovery from this global catastrophe and many countries begin re-opening their borders for tourism, the theme is "plan ahead" and, escape to Kenya this summer.
Many of the camps, lodges and tourism companies are freezing their rates or offering once in a lifetime discounts for travel to Africa this summer. If you are a health care worker for instance, your spouse may be able to travel with you free of charge at certain camps. While most people have postponed their travel plans to 2021 there is a noticeable increase in travel for the Summer of 2020.
Airlines that have resumed flights to Kenya include Qatar Airways, Ethiopian Airlines and Emirates.
A trip to Africa for some is quite a distance and we always recommend that our clients combine their safari to Africa with a visit to either Zanzibar or the Kenyan coast. Whichever way you plan this there are some incredible beach destinations that are paradise personified. Fanjove Island or &Beyond's Mnemba Island are just examples of the most idyllic Indian Ocean islands where you can wash off the dust and relax in style. And if you would like the bustle of Zanzibar's Stone Town then Matemwe Lodge is well worth exploring.
Fanjove Island
South and East of Dar es Salaam, 140 kilometres into the Indian Ocean lies Fanjove Island, part of the Songosongo Archipelago. Less then 1 kilometre long and even less wide this is only one of two private islands off the coast of Tanzania. Up until a few years ago the island was completely uninhibited and it's pristine white beaches are a dream come true for those looking for a private island experience.
There are only 6 banda's on Fanjove Island all grouped on the South East side. They have been carefully positioned to ensure complete privacy from one another. A small sandy path leads from each one down to the beach and one can easily forget there is anyone else on the island with you.
Rates start from $425 per person and include all meals, accommodation, local brand drinks, airstrip transfers and limited laundry. There are sunset dhow trips, diving, snorkeling, kayaks and dolphin excursion to be enjoyed and if that's too much then settle yourself under a palm tree with a good book!
&Beyond Mnemba Island
&Beyond Mnemba Island lies off the north-eastern tip of Zanzibar. Inhabited only by guests and staff the island is less than a mile in circumference. Mnemba Island is surrounded by an atoll of stunning coral reefs and has some of Africa's most magnificent dive sites. The calm azure seas surrounding the island offer snorkeling, scuba diving, kayaking, stand-up paddle boarding and permanent swimming directly from the beach.
Mnemba Island offers rustic paradise where just 12 palm-frond bandas are tucked into a tropical forest. A covered walkway leads to a shuttered en-suite bathroom and glass-beaded shower curtain. Built-in barazas on the deck are absolutely perfect for afternoon siestas. Twelve private beach salas feature traditional Zanzibari loungers that are great with a book or just to soak up the sun.
Rates start from $1270 per person which includes accommodation, all meals, local brand drinks, laundry, two dives per day, snorkeling, kayaks, sun downer dhow cruises, stand up paddle boarding and airstrip transfers. This is the ideal destination for an escape to Kenya this summer.
Matemwe Lodge
Matemwe is private and exclusive. The beach is still one of the quieter and more exclusive locations on the island. A 30-minute boat ride away is Mnemba Island with world-renowned coral reef that provides incredible diving and snorkeling. There is a good chance of seeing turtles and dolphins with colorful reef fish that dart around the coral.
Six triple-bed chalets are available, and there are two that have a private plunge pool. The large bathrooms have a deep bathtub and walk-in shower, and beds are all enclosed by mosquito nets.
Rates start from $262 per person and includes accommodation, water, guided reef or village walk and kayaking. There are several other activities available at additional cost and it's the perfect honeymoon location after your bush safari.
---
When you think of Kenya, what does your mind conjure up? Mount Kilimanjaro? The plains of the Masai Mara filled with herds of Wildebeest and Zebra over a million strong? River crossings and crocodiles? Amboseli's flat marshy plains? The Oloololo Escarpment? The view from Angama Mara over the Mara Triangle? The Ngorongoro Crater from The Highlands? Whatever images your mind presents it is Africa filled with wide open spaces, umbrella shaped Acacia trees' dotting a grass filled plain that stretches to the horizon and further. This is why you need to escape to Kenya this summer.
Angama Mara
Angama Mara takes its name from the Swahili "angama" which means "suspended in the air', and it truly is an incredible  position for the lodge. The 30 tented suites at Angama Mara each cover more than 100 square meters of space with incredible views over the surrounding landscape.
Rates start from $1250 per person and includes accommodation, all meals, local brand drinks, laundry, WiFi, game drives, walking safaris, village visits, airstrip transfers, child minding and VAT.
The Highlands
The Highlands commands beautiful sweeping views that take in both sunrise and sunset. The landscape for which the lodge is named is both panoramic and incredible. With the sky clear it's possible to see the Gol Mountains to the north west as well as  the vast plains of the Serengeti. The Empakaai and Olmoti Craters are also visible. Game sightings from the camp itself can include Buffalo, Zebra, Porcupine and sometimes Elephant.
Rates start from $549 per person and includes accommodation, local brand drinks, game drives twice daily, laundry, airstrip transfers, crater hikes, cultural visits and bush meals.
Need another reason to escape to Kenya this summer? Then read on…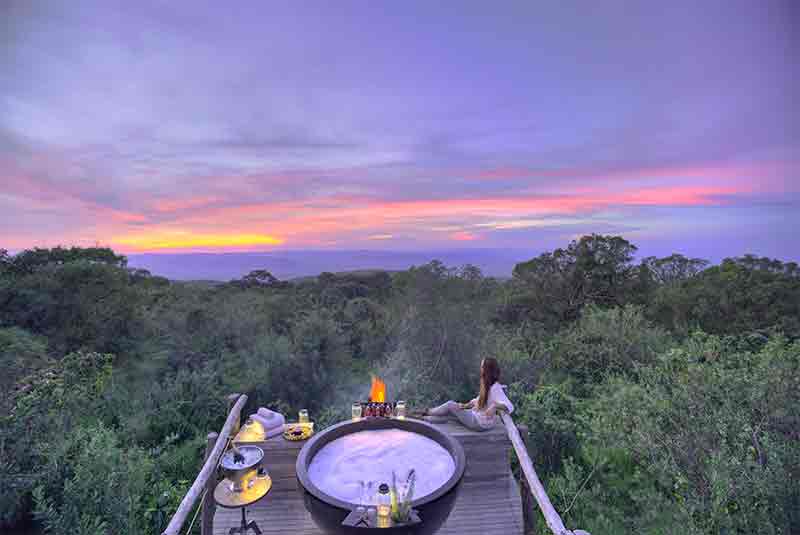 ---
If the sight of Mount Kilimanjaro and the marshy plains of Amboseli National Park with huge herds of Elephant, is what appeals to you, we absolutely loved our stay at Tortilis Camp. The camp lies within its own private concession ensuring a very private and unspoiled safari experience.
Tortilis Camp
Just 140 kilometres South of Nairobi is Kenya's second most popular reserve and is home to Tortilis Camp. The park is famous for large groups of Elephant that sometimes number over a thousand animals in one herd and the world's largest free standing mountain, Kilimanjaro.
The diverse habitats and lush vegetation makes Amboseli one of the best wildlife viewing parks in the world. 600 species of birds, Elephant, Lion, Leopard, Cheetah, Buffalo, Gazelle and Zebra are all in healthy populations. The camp has the best views of Kilimanjaro and guests have the added benefit of having access to the park and Kitirua Wildlife Conservancy.
Rates start from $539 per person and includes accommodation, all meals, local brand drinks, twice daily game drives, walking safaris, sun downers, bush breakfasts, airstrip transfers and laundry.
If you would like to know more about this incredible safari destination then read all about the Amboseli Conservation Program.
---
If a cultural experience is what appeals then visit the Samburu area of Kenya. The landscape is completely unlike any other you could imagine and is both fascinating and incredibly beautiful. The Samburu people themselves are as friendly as I have found the people in Zambia. Humble, always smiling and great people to spend time with.
The wildlife of this area is excellent, lone Leopard that roam with haughty attitude, Grevy's Zebra and the weird looking Gerenuk with their long elongated necks. Spend some time with the Samburu, go on a village tour and learn as much as you can about this tribe. While you may think this is the "tourist" thing to do, the interactions never feel like that, the Samburu take pure and unadulterated joy from telling you all about themselves in a a way that is humbling. For a camp to enjoy in this area we advise Saruni Samburu for the incredible views over the Kalama Conservancy from the rocky inselberg the camp calls home.
Saruni Samburu
Perfectly positioned on a rocky inselberg in the very exclusive and remote Kalama Conservancy is Saruni Samburu. The conservancy lies directly North of the Samburu National Reserve and has incredible views out over the bush and Mount Kenya to the South.
There are 10 villa suites and the Family Villas each have two double or twin en-suite rooms on either side of a central lounge area. The Family and Single Villas are divided into completely separate Standard Villas and are also very private. Two large Individual Villas can be utilized for a family of 3 as well as honeymoon villas.
Rates start from $700 per person sharing and includes accommodation, all meals, twice daily game drives, local brand drinks, walking safaris, bush dinners, picnics and a children's activity program.
An alternative choice could be Sasaab Lodge within Samburu National Park and offers game drives, walking safaris and many cultural experiences where you can directly interact with the communities your tourism is benefiting. A view like that is worth an escape to Kenya this summer.
From Sasaab Lodge one can fly directly into the Serengeti or stop for a few days in the Lewa Conservancy, another memorable location for your safari to Africa. This conservancy is a combination of the flat rolling grasslands of the Mara and the rocky outcroppings of the Samburu area. Lewa Safari Camp is one of just four camps in this 65 000 acre conservancy, Lewa Safari Camp is remote, private and very unique. The conservancy is world famous for it's conservation work in the protection of both White and Black Rhino. Another excellent reason to escape to Kenya this summer.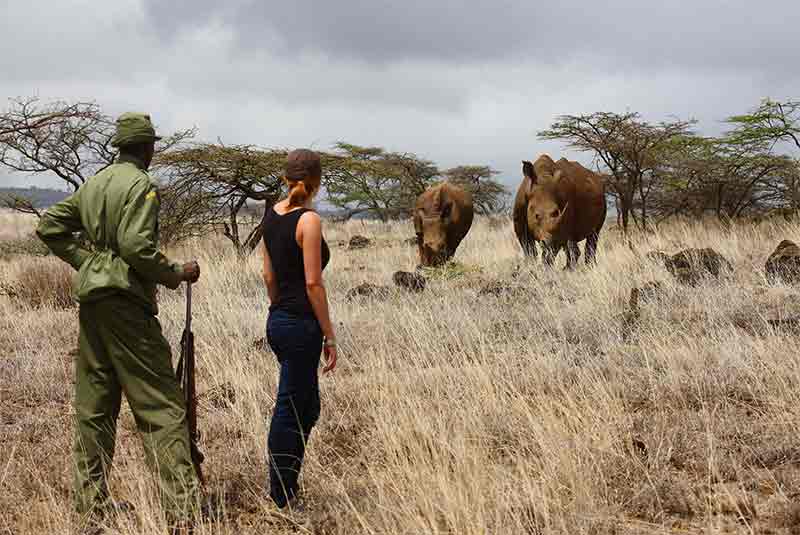 Lewa Safari Camp
As one of just four camps in this 65 000 acre conservancy, Lewa Safari Camp is remote, private and a very unique camp from which to explore the diversity of wildlife in the area. The camp is managed by a reputable firm but is wholly owned by the conservancy with profits being returned to the surrounding communities and into conservation.
The conservancy was founded in the 1970's and is now a world famous Rhino conservation habitat. Lion, Leopard and Jackal thrive on the huge numbers of plains game with the conservancy being home to the largest population of Grevy's Zebra in the world and over 200 White and Black Rhino.
Rates start from $518 per person and include accommodation, meals, local brand drinks, airstrip transfers, twice daily game drives, walking safaris, sun downers, bush breakfasts and laundry.
---
Look out for our next blog on what's new in Africa and if you want expert advice for your safari to Africa then contact us at African Safari Experts. We look forward to welcoming you to Africa!
---