Top 5 Family Safari Lodges in Zambia
As parents, we all want the best for our children. So, where can we safely take our children on safari? African Safari Experts understand this dilemma intimately, we have compiled a list of the top 5 family safari lodges in Zambia for you.
Why just 5? Why not 10? Well, there is a lot of information out there and 10 choices makes it harder, not easier to choose. We've been to these lodges with our children and experienced what it's like for children on safari at each location. And to say we were blown away is an understatement.
We were very careful to choose locations where we felt our children would be safe too. Some lodges are not fenced at all and there are animals around almost constantly. From small Vervet monkeys to Warthog, Giraffe and some shy Bushbuck. Sometimes Elephant wander through and at night there can be Hippo feeding in close proximity to the lodge or your room.
All animals have defense mechanisms – horns, hooves, fangs and sharp teeth – so we were careful to select lodges where we felt that the children could be themselves without us constantly worrying over them and where they were. Our children were 4 and 7 at the time of our first family safari and Kate (4 years) took to heart our information that she needed to be careful. One of the guides also gave her a "safety briefing" specially tailored to very small children. This really helped her understand where she was and what to be careful of.
The staff and management at each of these lodges went far beyond their duties to help, accommodate, entertain and pamper us as parents. The guides spent more time than necessary with the children ensuring we had a chance to relax, do a spa treatment and have some quality time together. They even went so far as to put the children to bed while we enjoyed a private dinner on the river banks. It made a huge difference to our experience as parents traveling with children on safari.
We have visited each of these locations at different times in the past 3 years, sometimes just as a family and at other times with friends and their children. We have also taken our extended family along and our parents were treated like royalty, the staff at all these lodges went far beyond our expectations.
While we are not at a stage of a complete return to normal travel, it is very possible and there are many people who are advocating travel at this time. Airports, aircraft and the entire process of travel is now much safer than going down to your local store for groceries. Africa has some of the lowest COVID-19 infection rates and Zambia in particular. While the CDC and other institutions are reporting second waves and more infectious variants of COVID-19 we need to bear in mind that with common sense it is not difficult to remain safe.
Chongwe House
#1 of the top 5 family safari lodges in Zambia.
Lower Zambezi National Park
Just a short light aircraft flight from Lusaka, Chongwe River House is an award winning 2 story house of four bedrooms situated on the banks of the Chongwe River. The house is open from 15 April to 15 November each year.
Arriving at Jeki airstrip there is an exciting 60 minute boat ride and a further 20 minute road transfer to get to the house. Once there, you are truly immersed in the wilderness of Lower Zambezi National Park. The house is the perfect venue for families or groups of friends looking for a safe travel bubble from which to explore. Located within the Game Management Area the area is filled with wildlife and it's not uncommon to have Elephant and other wildlife roam through the camp.
There is a spacious lounge area that leads out onto a wide deck and swimming pool that look out over the river. All the rooms have an en-suite bathroom, waterfall and rain showers, private outside baths and can be made up as double or twin rooms.
The house has her own private staff, chef and guide with vehicle so your daily schedule is at your discretion. Activities include canoe trips on the river, angling, boat cruises, day and night game drives, walking safaris, a small hide at the water hole and a sleep out under the stars for the more adventurous.
From $3 260-00 for 1-4 guests per night ($815-00 per person per night.)
Chongwe River House is our #1 of the top 5 family safari lodges in Zambia.
Luangwa Safari House
#2 of the top 5 family safari lodges in Zambia.
South Luangwa National Park
Luangwa Safari House is a private, exclusive use house located on private land near Nkwali with amazing views of the Chindeni Hills and South Luangwa National Park.
The hills form a dramatic background for the views over the lagoon from the spacious deck and lounge area. As the house can only be booked by one group, your safety and privacy are assured during your stay. Entering through the teak doors at the rear of the house your first impression is of space, plenty of it. The open plan lounge has several couches and opens out to the deck and swimming pool.
The 4 bedrooms are all off the main lounge area, 2 on the ground floor and 2 upstairs that can be accessed via staircases on either wall. All the rooms are en-suite and each has it's own private deck for incredible arm-chair game viewing. Rooms can be made up as doubles or twins.
Activities include day and night game drives, walking safaris, village tours, local market excursions and the famous Tribal Textiles.
Children from 7 years are welcome and if your children are under 16, the second child stays for free!
From $4 120-00 per night for 8 guests. Open 15 March to 15 January.
Luangwa Safari House is our #2 of the top 5 family safari lodges in Zambia.
Potato Bush Camp
#3 of the top 5 family safari lodges in Zambia.
Lower Zambezi National Park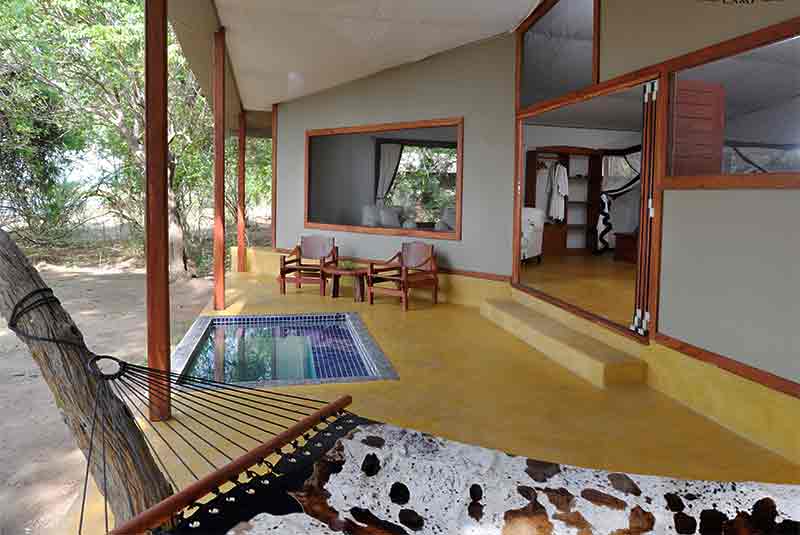 Potato Bush Camp in the Lower Zambezi National Park is easily accessible from Lusaka via light aircraft into Jeki airstrip. This is followed by a boat ride and vehicle transfer, both are great opportunities for game sightings.
The camp has set a new standard in the small and exclusive luxury tented camps. The elegance of design perfectly combines natural woods with the age old canvas safari tents to produce a warm and relaxing environment. All four of the tents are situated on the river banks and linked by raised wood walkways.
The minimum age for children is 4 years and they have a 2 bedroom luxury family tent that is ideal for families. The family tent is a massive 21m wide and has a large living, dining and front deck which divides the two rooms. Each room has an en-suite bathroom with dual showers and vanity basins. There is also a free standing bath with stunning views out over the bush and river. There is also a private plunge pool, a well stocked bar fridge
The other 3 tents are all also very spacious with en-suite bathrooms, twin showers and vanity basins as well as a claw foot bath tub for some lazy soaking. Stacking doors lead out onto the veranda where a two person hammock eagerly awaits you. The small plunge pool is great for the warmer days in between your safari activities.
The prices below are applicable to travel in April and May.
Safar tents from $650-00 per person sharing.
Family House from $650-00 per person sharing
Children 4-17 tears from $225-00 per person sharing
Private camp (10 beds) from $4 550-00 per night.
Potato Bush Camp is our #3 of the top 5 family safari lodges in Zambia.
Thorntree River Lodge
#4 of the top 5 family safari lodges in Zambia.
Livingstone
Set amongst trees' on the banks of the Zambezi River, Thorntree River Lodge is but a stone's throw from the mighty Victoria Falls. The Mosi-au-Tunya National Park is a World Heritage Site and home to a wide diversity of animals. Rhino tracking is a signature activity here, as is the obligatory sunset cruise! Either use a guide and boat from the lodge or let the staff make a booking for you on Lady Livingstone. We preferred the smaller boats as there are plenty of small channels that can be explored.
As the lodge is 20 minutes from the Falls themselves the location is a blessing, bear in mind the constant chatter of helicopters doing sightseeing flights can become very irritating. The serenity of this lodges location is what makes it such a great place to be.
You can fly into Livingstone airport direct from Johannesburg with British Airways or via Lusaka with ProFlight. The lodge will arrange to meet you and assist at the airport before a leisurely drive through the town and to the lodge itself.
There are 12 beautifully appointed rooms at Thorntree River Lodge and children of all ages are welcome too. The lodge has a very special Ngwana Club that kept both our children entertained for many enjoyable hours and allowed us to slip away for some peace and quiet. There is a gym as well as a spa and Kate, (my wife) was able to enjoy several days of spa treatments that made her extremely happy. I was able to do some Tiger fishing while she was pampered.
In the evenings we were able to leave the children with a specially arranged – trained – child minder and spent some memorable times around the campfire and dinner table. The sunken infinity pool is also very popular.
From $630-00 per person per night. Children 0-6 years stay free of charge, 7-15 years are at 50% of the adult rate. There are 6 and 9 night specials.
Thorntree River Lodge is our #4 of the top 5 family safari lodges in Zambia.
Mfuwe Lodge
#5 of the top 5 family safari lodges in Zambia.
South Luangwa National Park
Set within the world famous South Luangwa National Park, Mfuwe Lodge has an excellent reputation as a family, and child friendly safari lodge.
The lodge is accessible from Lusaka with ProFlight to Mfuwe Airport and then a 90 minute drive from the airport to the lodge. This drive itself is very interesting as you are passing through rural villages and small farms where the locals grow fresh produce and maize. The small town of Mfuwe is also interesting and quite charming. Once through the park gates it's a short drive to the lodge where we were welcomed with a cool drink and check in.
From the reception area you can look out over the river and the rooms extend to both the left and right of this. There is a very big deck that includes a swimming pool.
If you are looking for some extra privacy then consider booking the Directors House. This is a completely private and exclusive family villa with two bedrooms, two en-suite bathrooms, private dining, pool and it comes with your own private guide and vehicle. The last being very beneficial as it allows you – or perhaps the children – to decide when you would like to go out on game drives.
The main lodge has expansive lawns, a library and plenty of children's activities too. The lawns and trees' are home to Monkeys, Baboon, Warthog and occasionally Hippo (at night), Elephant and sometimes the odd Lion pride that wander through and make themselves at home! For this reason we only visited Mfuwe Lodge once Kate and Andy were a little older, 7 and 9 years of age.
Morning and afternoon game drives, a small gym and an excellent spa facility kept us quite busy but we also spent some wonderful afternoons just sitting on the deck of our rooms enjoying the many things to be seen. Banded Mongoose are also regular sightings as they chipper to each other as they forage on the lawns. Game drives were just incredible! There can be very little in Zambia that beats South Luangwa and we had regular sightings of Lion, Leopard, Hippo, Buffalo, Elephant, Crocodile, Giraffe and diverse antelope.
Guides here are of a world class standard. The hosting by Andy Hogg and his team is fantastic. We felt very welcome and staff are very attentive to you and the children. Kate at one stage wandered off only to be brought back by Peter who was keeping a watchful eye.
The lodge ensures that every guest experiences a bush breakfast and this was definitely a highlight as the children got involved with the chefs' as they prepared our breakfast over an open fire in the middle of the bush! Special sundowners are also the norm. Your guide will either meet up with several other vehicles and guests or you can enjoy a private sundowner with incredible sunset views.
From $440-00 per adult and $245-00 per child 2-11 years of age at Mfuwe Lodge. If you opt for the Directors House then $500-00 per adult per night and $300-00 for children 2-11 years of age. These are "Green Season" rates applicable to travel 1 January to 31 May and 1 November to 31 December.
Mfuwe Lodge is our #5 of the top 5 family safari lodges in Zambia.
---
Read our Country Information for travel advice to Zambia.
To get involved with supporting conservation read up about Conservation South Luangwa.
Read our blog on the Top 6 Island Paradise Retreats.
---
If you have any questions about these lodges and our experience, send me an email.
Pierre
CEO
African Safari Experts