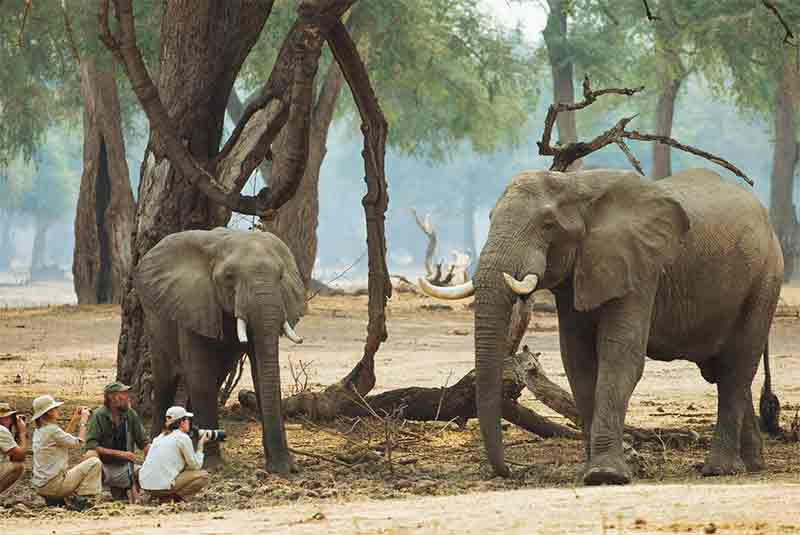 Mana Pools is a place of true wildlife abundance, of incredibly beautiful and remarkably diverse habitats offering one of Africa's most incredible safari experiences. Chikwenya, Ruckomechi and Little Ruckomechi are all located within totally private concessions on the western and eastern boundaries of the National Park, each camp is located in the most spectacular setting amongst riverine woodland, on the banks of the Zambezi River.
One of Mana Pools many great highlights is the wide range of activities which are available to create a truly immersive experience. These include game drives, guided walks, canoeing, catch and release fishing or simply absorbing this remote area's incredible serenity and diversity.
Chikwenya is one of the most exciting new camps in Zimbabwe and has literally just opened its doors. The camp is designed to take advantage of the scenery – each luxury tent is nestled within the shadows of a Natal Mahogany tree. Through the gauze doors of your tent – which is raised on wooden decking – you will have fantastic views of the Zambezi River. The rooms are designed with the purpose to enjoy the views as well as surround yourself with the stunning scenery. The décor is mainly handmade locally, with a naturally earthy palette.
What you are likely to experience during your stay at Chikwenya are large concentrations of Buffalo, Elephant can be seen ambling their way along the banks of the river, while eager eyed game viewers will spot predators such as prides of Lion, solitary Leopard and even Wild Dog, perhaps on a hunt. Chikwenya have partnered with the Painted Dog Conservation to help to make a difference to the African Wild Dog population in Zimbabwe. They are aiming to gain an insight into the demography, ecology and genetic composition of the Middle Zambezi and wild dog population.
The birdlife surrounding Chikwenya is also superb, particularly if you focus on the woodland and riverine species. Keep your eyes peeled for the local breads such as the black-throated wattle-eye, red-necked falcon, Livingstone's flycatcher, racket-tailed roller, three-banded courser, Bohms spinetail, mosque swallow, western banded snake-eagle, crested guineafowl, trumpeter hornbill and eastern nicator – just to name a few!
A walking safari in Mana Pools is a life changing experience so be sure to have a comfortable pair of shoes, hat, binoculars and of course your camera. There is no better way to really, touch, smell and feel Africa as you can when on foot. Its a humbling experience.
If you are interested in visiting this World Heritage Site then get in touch with us and we'll ensure your dream safari becomes a reality.
This is what a past guest had to say about their visit…
"It was one of the best wildlife experiences ever! If you haven't visited Mana Pools before, it's a must-visit destination. Chikwenya is the perfect camp to experience Mana Pools from. To walk amongst the Elephants in the Albida forest is a life-changing experience….the highlight of my trip." Anton K